Epic
Hero
Vikki
Win
Sex
Male
Male
Female
Female
Color
Black/white
Black/white/tan
Black/white
Black/white
HD
A/A
 A/A
 A/A
A/A
Eyes
CEA normal/clear
CEA normal/clear
CEA normal/clear
Health
IGS and TNS N/N (clear)
 ED 0
Died of eclampsia in 2014
Herding
1st prize IK1.
Gk vallhund. Competes in IK2.
 Gk vallhund.
1 st prize IK1.
Gk vallhund.
1st place IK1.
1st place 2nd grade (Norway).
3rd place Unghundscupen 2012.
Participated in Swedish National Championships and Sverigecupen 2013.
Obedience
1st prize klass II
1st prize klass I
Agility
SEAgCH (A3)
SEAg(hopp)CH (J3)
Nordic Championships
European Open
J3
A3
Our first litter was born on August 3, 2010. We had the great honor to borrow and breed Squid's mother Emenem's Fly (u. Moel Somolli e. Joe).
Fly is a really nice and social bitch and a very talented sheepdog. Her hip score is A, her eyes were tested clear as a puppy and she has a 2nd prize in IK1. We have met and know several dogs from her litter and we like them a lot.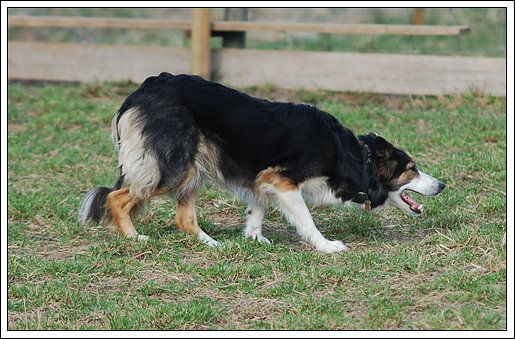 The puppies' father is Killiebrae Hemp (e. Derek Scrimgeour's Ben) who lives with Hans-Marius Myhre in Norway.
Hemp has competed with success as a sheepdog at the highest level in Norway. He is cooperative and has a calming effect on sheep. Hemp was 11 years old when we used him and he sired plenty of litters before ours. We really like the dogs from his previous litters, both as sheepdogs and in other sports. Every one of his x-rayed offspring has free hips and seems to be generally very healthy dogs.
Hemp and his Swedish offspring at Vallreg.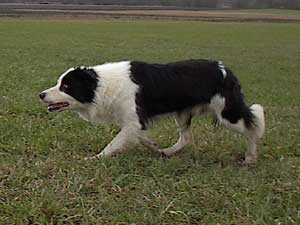 Pedigree
Killiebrae Hemp
ISDS243996

Scrimgeour A D Ben
ISDS220939
Cahill D Tass
ISDS195299
Cahill D Bess
ISDS162734
Scrimgeour A D Jess
ISDS224565
Roberts J E Roy
ISDS178089
Evans D Sunroyd Megan
ISDS206364
Emenems Fly
V1661/2005

Joe
V1613/2004
Don
ISDS232899
Lyn
ISDS232394
Moel Somolli
V1140/2001
Jones H G Moel Roy
ISDS210890
Moel Mo
ISDS242084