Seven (3+4) pups born on November 22, 2020.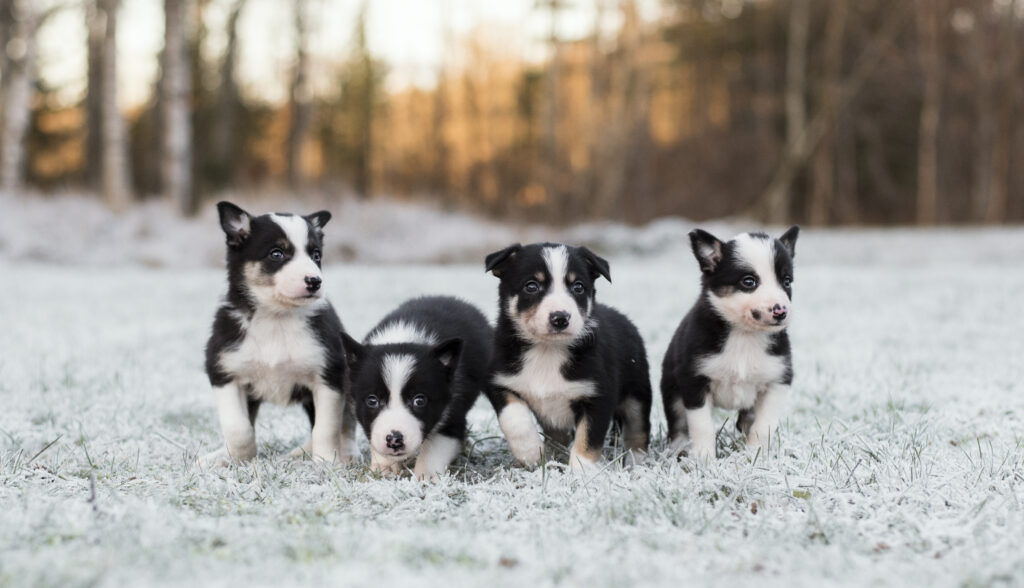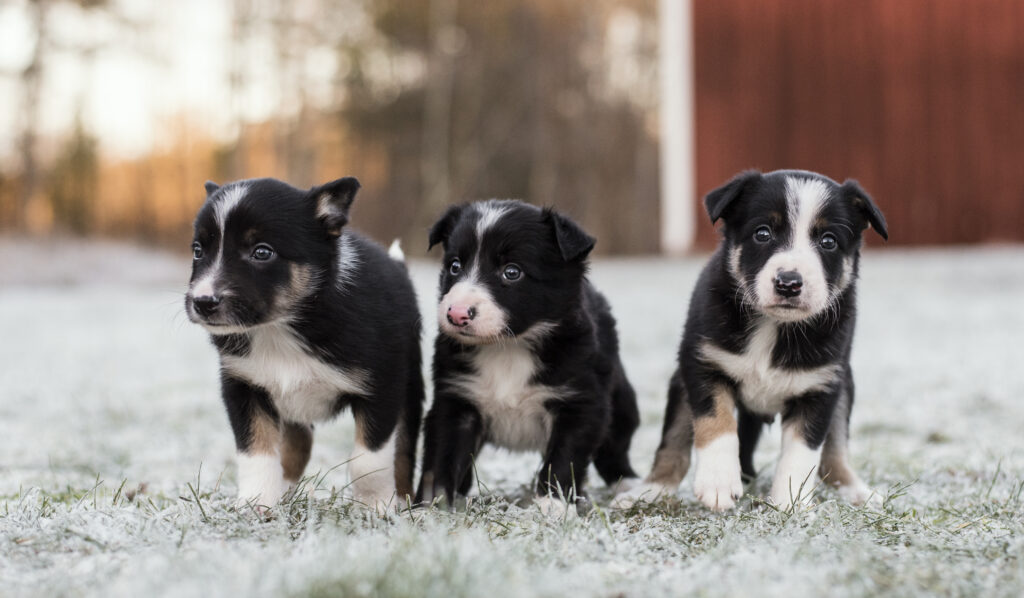 Nicks is born in December 2014 and lives with our friend Lena in Småland. She's imported from Scotland out of Cynfal Gwen by Myllin Davey. We wanted a puppy from Davey as we like his style of working. When we watched a video of Nicks' mother Gwen, we knew this was a great combination. Both Davey and Gwen have been successful in trials at the highest level. Nicks' father has a few litters in Sweden and looks like a good breeder of sound hips. We don't know a lot about Nicks' mother as she is in Scotland. Nicks is a carrier of CEA, but will not produce any affected puppies as Dart is normal.
Nicks has passed the Swedish Working Test and competes in Open trials. She placed 8th at the Swedish Nursery Finals and represented Sweden at the Nordic Nursery Championships. She has a great temperament and build. Nicks is happy to drive sheep anywhere and is a good listener.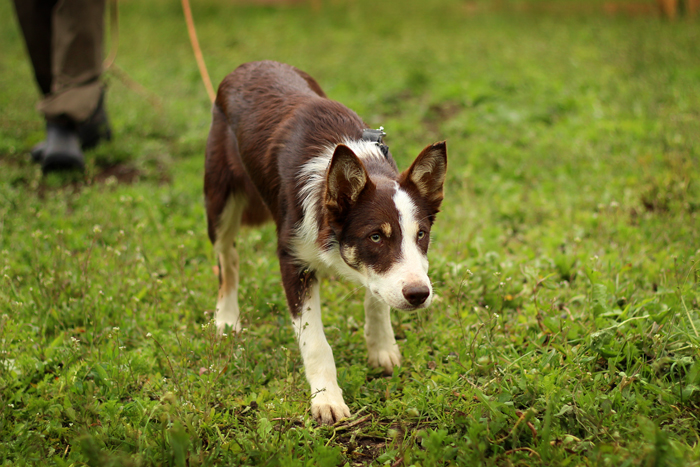 Nicks is bred to FTW Dart. Dart is a son of Emma Gray's Tweeddale Jamie and out of FTW Ale (by FTW Epic). Dart is a young dog with a promising future. He has passed the Swedish Working Test, placed in nursery trials, and was invited to the Swedish Nursery Championship 2020. He is a stylish and intense dog who is also a good listener and easily trained.
Dart has B hips and is clear for CEA, IGS, and TNS. When he doesn't work sheep he sometimes goes to agility trials, where he has had success in class 1. He is friendly and stable and loves to cuddle. Five out of six pups in his litter have already passed the Swedish Working Test.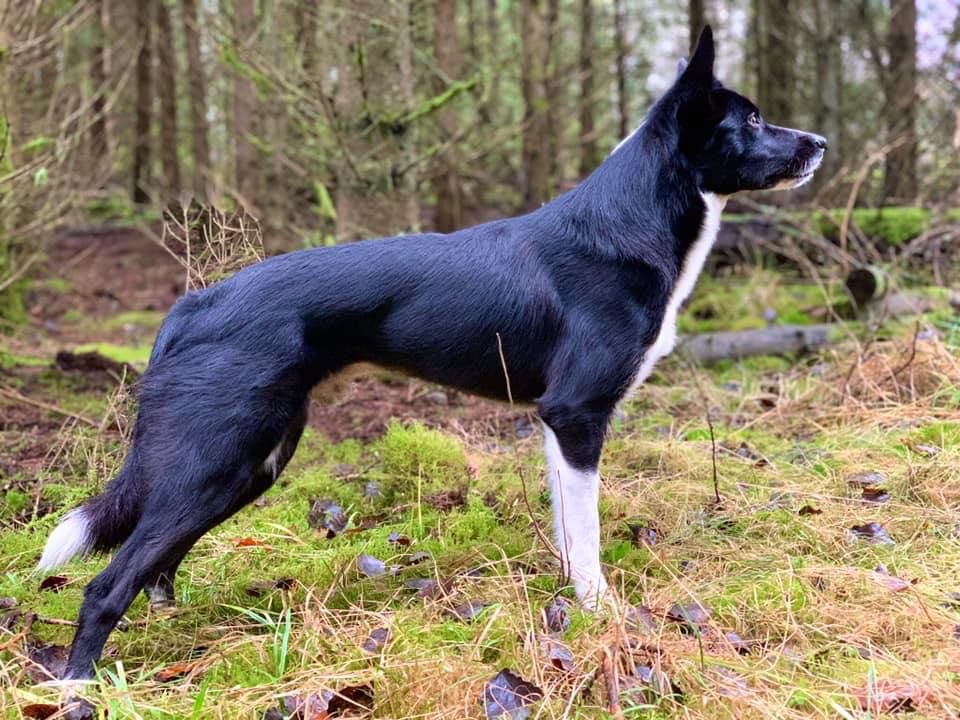 Quin
Mite
Tyne
Wye
Sex
Bitch
Bitch
Bitch
Bitch
Color
Tricolor
Black and white
Tricolor
Tricolor
HD
B/B
B/B
B/C
A/A
Eyes
Clear 2021-11
Other Health
ED 0
ED 0
ED 0
Sheepdog trials
2:a-pris IK1
Obedience
Agility
A3 J3 SAg(hopp)CH
SAgCH  Championships 2023 and 2024
A2 J3
Tweed
Tay
Taff
Sex
Dog
Dog
Dog
Color
Tricolor
Black and White
Tricolor
HD
B/B
A/A
A/A
Eyes
Other health
ED 0
ED 0
ED 0
Sheepdog trials
Obedience
Uppfl. startklass
Uppfl. startklass
Agility
A3 J3
SAgCH
J2 A2
Other
Högre klass spår, 𝖱𝖫𝖣 𝖭
Pedigree
FTW Dart V1359/2018
Tweeddale Jamie
ISDS00/332882
Sweep
ISDS00/293085
Minx
ISDS283626
FTW Ale
V1055/2015
FTW Epic
V1512/2010
Agdalavallarnas Fay
V1420/2010
Nicks V1382/2015
Myllin Davey
ISDS292919
HJ Francis Moss
ISDS260050
HJ Francis Lyn
ISDS246141
Cynfal Gwen
ISDS315919
Goyallt Sweep
ISDS305458
KB Williams Meg
ISDS305743